High Pressure Cleaning Brisbane
As the word itself implies, 'high pressure' means that high pressure washers are used to spray water on hard surfaces so as to accelerate and ease the cleaning of the surfaces. This way, grime, dirt, dust, mould, mildew and even stains are effectively removed. And the place looks nice, clean, stain-free and dirt-free. Adjustable washers determine the level of pressure and depending upon the condition of the surface, the cleaning is carried out accordingly in your home or office space in Brisbane.
High pressure cleaning is carried out for bricks and pavers, pathways, driveways, patios, roofing, pool areas, fencing, retaining walls, pergolas and any concrete, cement, stone or exposed aggregate surfaces.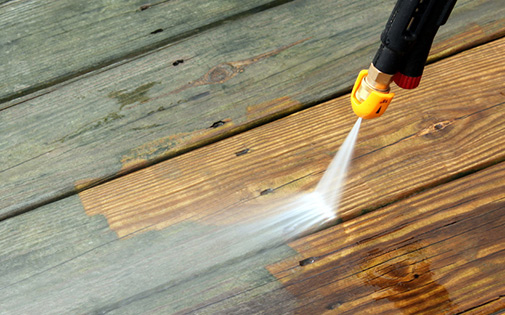 And if you need a round of high pressure cleaning carried out at your place in Brisbane, then just get the high pressure cleaning experts at Trim External House Cleaners to take care of it for you.
Low Pressure Cleaning Brisbane
Do you know when and where low pressure cleaning and washing and high pressure cleaning is employed? Most times, you may not really be aware and that is why Trim External House Cleaners in Brisbane would like to throw some light in this regard.
High pressure cleaning is typically used for driveways, pathways, patios, roofing, and carpark areas, concrete surfaces, and any type of or hard surfaces. And low pressure cleaning is applied to the external walls and house exteriors. We believe in relying on low pressure cleaning for walls and painted areas because we don't want to chip away the paints or any work done on the external façade or wall.
And so as part of the low pressure cleaning in Brisbane, the overall cleaning is carried out in a gentle, mild manner and that way the cleaning is thorough and complete.
We use very mild cleaning products and the supporting material is soft and not too harsh. With the low pressure cleaning of the building's exterior walls, the building gets back its appeal, and all dust, and dirt build-up is eliminated. If you are planning on selling your house, then your property will have better appeal and its value too will increase.
And yes. We do have our methodology that we have devised over the years' that is part of our low pressure and high pressure cleaning services carried out in Brisbane.
High Pressure Cleaning Vs. Low Pressure Cleaning

⇋ Pressure cleaning and washing is the best way to help clean your house exteriors. Just that, there are two types of pressure washing and that is, high pressure cleaning and low pressure cleaning.
⇋ A low pressure wash and clean is not as intense and powerful as a high pressure wash.
⇋ At times, if high pressure wash is employed in areas that it should not be used, then it can chip off paint or even damage the surface.
⇋ Whatever be the type of pressure wash and clean, it can only be determined by the type of surface or material it is made from.
⇋ Low pressure cleaning is good for most materials and surfaces. Whereas high pressure cleaning can be employed on tough surfaces made of concrete.